Optimal onboarding ensures new employees hit the ground running
by Arthur on May 23, 2023 10:26:32 AM
Employers want to offer their employees the very best – and that starts with onboarding. Onboarding means familiarising your employees with their new work environment, culture, tools and colleagues, to help them on their way as soon as possible. This ensures your new employees can hit the ground running and will stay with you longer. In this article, we discuss optimal onboarding in detail, highlighting how Plek Onboarding plays an important part.
What exactly is onboarding?
Onboarding is the process of introducing new employees to your organisation and its culture, with the goal of integrating new recruits rapidly and efficiently into the company and endowing them with a sense of connection and engagement.
The onboarding process
The onboarding process starts before the first day at work with preboarding, and continues over the first weeks or months in the new position. This implies that onboarding is a continuous process that does not stop after the first day or week.
The preboarding process allows the new employee to get to know the new organisations and colleagues beforehand. You can drive this by sending them a welcome package that includes information about your company, its vision and mission, and more. This is a good way for your recruit to prepare themselves for their new environment and responsibilities.
Rapid and efficient integration
A premium onboarding programme ensures that your new staff members integrate rapidly and efficiently into your company and its culture. Plek Onboarding supports every new employee by gradually introducing them to your organisation. This starts before their first day, with a targeted, warm welcome and clear, actionable information that empowers them in their new position.
Of course, you can design a variety of onboarding processes for different departments and roles. Likewise, the programme can be individually adapted to the needs and specific position of your new employee.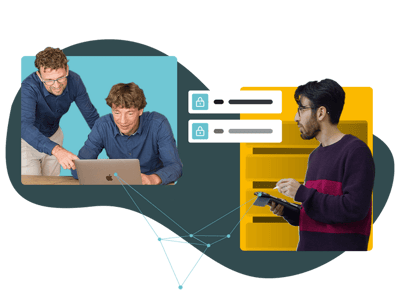 Want to discover the benefits of Plek Onboarding yourself?
View the tour for free and discover the secret of onboarding
The right information – always and everywhere
Plek Onboarding provides templates, programmes and a user-friendly app. Our app is available for desktop and mobile. For the new employee it serves as a resource containing all vital information. Any staff member can use it to quickly retrieve important information – wherever they are.
In addition, employees can use the app to test their knowledge in a quiz and receive feedback. This is quick way for your new recruit to improve their knowledge and drive their assimilation in your company.
"What a fantastic journey this has been. Thanks to this product we can now focus on what matters."

Anthony Grower
Marketing Specialist
_________
Control over the things new employees really care about
17% of all new recruits leave within the first three months – some even leave in the first week! But with the right onboarding, it is 58% more likely that your new employee is still with your organisation after three years.
_________
Continuous onboarding
Plek Onboarding is not only designed for onboarding new recruits swiftly, but also for familiarising existing employees with new work instructions or processes. This is especially useful in the event of an employee transfer, reorganisation or the introduction of new rules.
Insight into the expectations of your new recruit
Every new employee has individual expectations. The better you meet those expectations, the stronger the connection and engagement. Throughout the entire onboarding journey, Plek Onboarding provides insight into the expectations of your new recruit and the extent to which the new job and organisation meet them. Armed with these insights, you can take timely and targeted action to adjust the course where needed.
------------------------------------------
"When an organisation treats onboarding and intranet as two separate components, it neglects the genuine connection between colleagues."
Pauline van Brederode – Communications Consultant, Zaans Medisch Centrum
------------------------------------------
Stand-alone or integrated
You can use Plek Onboarding as a stand-alone solution or integrate it with Plek Social Intranet. As a stand-alone solution, Plek Onboarding provides a range of features that support new recruits with their onboarding and ensure they feel connected with your organisation. However, integrated with Plek Social Intranet, it enriches the experience of new and existing employees even more. It allows existing team members to welcome their new colleague directly, with a smooth mutual introduction on the existing platform.
Merging Plek Onboarding with Social Intranet
Arranging your onboarding through Plek Social Intranet provides new benefits that the stand-alone app cannot offer. Because your existing teams are already active on the platform, new employees can reach out easily. They only need to learn where to find all information once. Moreover, as onboarding with Plek provides any new recruit with the same resources with key information that all colleagues use, there is no duplicate content. In short, by integrating Plek Onboarding with Plek Social Intranet, your new employees enjoy a seamless onboarding experience, while boosting the team's sense of connection.


Why Plek?
Premium onboarding is not just about the first week at a new job. It is about the long term and your existing employees as well. Plek prevents new staff from getting overwhelmed with rules and limitations. On the contrary, your recruits receive information that inspires, and connects them with your mission. With our approach, you can offer them a coherent story that feels authentic and inclusive.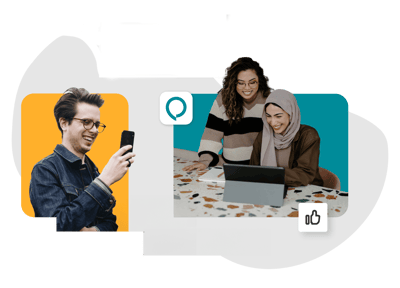 Want to discover the benefits of Plek Onboarding yourself?
View the tour for free and discover the secret of Plek Onboarding