Social Intranet: What it is and why you need it. 🌐 Discover the benefits!💡
by Justus on May 22, 2023 12:44:20 PM
A social intranet is an interactive platform for internal communication and collaboration within organisations. It allows employees to share information, stay updated on company news, and engage with each other in their daily tasks. Social intranets are suitable for large and small organisations and help employees stay connected regardless of location.
The latest generation social intranet offers more than just an interactive platform for internal communication. These are platforms that focus on improving the employee experience and also contain, for example, employee onboarding and tools to gain insight into what is going on within the organization. In this way, the intranet becomes a management tool where internal communication, HR and managers actively work together to improve of the productivity of the organization. This blog tells you more about the importance of a social intranet and what a next-level platform can mean for your organization's employee experience.
Differences from traditional intranet
A social intranet differs in several ways from a traditional intranet. Some key differences include:
Interaction and communication: A social intranet encourages interaction and informal communication among employees, while a traditional intranet is often static and focused on top-down communication.
Group collaboration: Social intranets make it easy to collaborate and share knowledge in groups, contributing to less information overload and more efficient communication.
Standard and custom solutions: A social intranet provides standard and custom options to adapt the platform to the organisation's needs.
Benefits of a social intranet
A social intranet offers numerous benefits for organisations, including:

Knowledge sharing: It fosters knowledge and expertise sharing among colleagues, leading to better collaboration and efficiency.

Group collaboration: The social intranet facilitates group collaboration, leading to co-creation and exchanging ideas.

Personalisation: Employees can customise their digital workplace by choosing which information they want to follow and which they do not.

Accessibility: The social intranet is always accessible via computer, smartphone, or tablet.

User-friendliness: A social intranet is simple and intuitive to use, with a clear layout and easy navigation.

Smart search and find: An advanced search function makes quickly finding the right information and documents easy.

Smart integrations: A social intranet can be easily integrated with other business applications, such as payroll, scheduling, and time tracking.

Cost-saving: A social intranet and its accompanying intranet software are often cheaper than a traditional intranet because they use existing solutions and licences rather than custom work.
Functionalities of a social intranet
We have listed the main functionalities of a social intranet for you.
The dashboard
The dashboard is the homepage of the social intranet. It displays the latest news, recently posted messages in the groups you follow, announcements, open job positions, and calendar items. At a glance, you can see what is happening within the organisation.
Groups
A social intranet consists of groups in which you share knowledge and collaborate. Bring together the right colleagues, post news, share files, start discussions, or like each other's messages. In the overview, you can find all existing groups together. An employee can also create new circles themselves.
Notifications
Another functionality of a social intranet is sending push notifications, for example, when you want to draw attention to an important message. You also receive notifications when there is a like or comment on your posted message. This way, you are always up to date.
Single sign-on (SSO)
Employees want as few barriers as possible when using the social intranet. With single sign-on, logging in repeatedly is a thing of the past. With SSO, you log in once on all devices and use the social intranet endlessly.
News
Corporate news from the organisation is shared in the newsfeed. This way, employees are always informed about the news they need and want to know. They can also like or comment on the news article.
Job Vacancies
Sharing job vacancies is another possibility within a social intranet. In the job overview, employees can find open internal and external vacancies, read more information about the job, and apply quickly and easily using the application form.
Colleagues
Who are all the people working within the organisation? A contacts book answers this question. You can find your colleagues with their contact information. You can also fill in your own profile. Who are you, what is your position, and what are you good at? By adding tags, you make your profile more easily discoverable.
Calendar
What activities and events are organised within the company? The calendar lists all items.
Announcements & Polls
On a social intranet, share urgent announcements for all employees on the dashboard and gauge colleagues' opinions.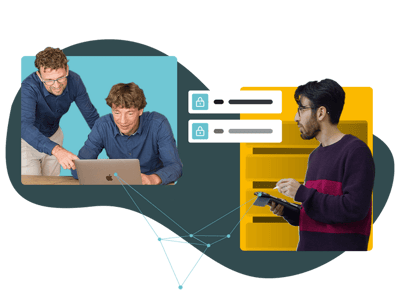 Would you like to discover the benefits of intranet yourself?
Watch the tour for free and discover the secret of social intranet
User information needs at the centre
A social intranet focuses on the user's information needs. Users choose which information is relevant and have access to valuable information, important documents, and onboarding tools for new employees.
Easy internal communication
A social intranet enables easy internal communication and user-friendliness. It is a safe, structured digital collection point for all organisation information, saving time.
Group collaboration
Social intranets make it easy to collaborate in groups. Employees can easily share knowledge and reduce information overload.
Standard and customisable
A social intranet offers both standard and customisable options. This allows the intranet to be adapted to your organisational requirements.
One central place
A social intranet is a central location for all internal communication. It replaces other internal channels and systems like email, posters, memos, newsletters, and WhatsApp groups. A good social intranet is also an excellent addition to Sharepoint for reaching your non-desk or deployed employees.
Knowledge sharing
A social intranet encourages knowledge sharing and collaboration between departments and teams. Employees can easily share their expertise, answer questions, and gauge opinions.
Accessible anytime, anywhere
A social intranet is accessible via computer, smartphone, or tablet. It is available whenever and wherever you need it. This means you are not bound by time, location, or device.
User-friendly
The social intranet is simple and user-friendly, with a clear layout. It resembles familiar social media channels like Facebook, LinkedIn, and Instagram. Employees can like, share, and comment on posts within groups.
Efficient searching and finding
The smart search function of a social intranet is essential. You quickly find the right information, documents, or groups with one search query. Finding colleagues is also easy with a contact book functionality containing names, faces, and contact information.
Smart integrations
The social intranet connects intelligently with business applications such as pay slips, expense claims, time tracking, and schedules. Employees have direct access to all necessary applications from the social intranet.
Cost-saving
A social intranet is affordable. Traditional intranets are developed per organisation, which takes time and money. With a social intranet, you use the service through a subscription or licence. Plek Social Intranet is a good example. With Plek, you have a monthly social intranet for all employees for just a few euros.
Social intranet & employee experience platform in one
Do you want to increase connection, involvement and productivity? And improve your employee experience and communication in a targeted way? Then you don't just need a platform, but a next-level social intranet. A social intranet that focuses not only on internal communication, but on the entire employee experience. A social intranet that helps you get new hires productive quickly, measure and increase employee engagement, and drive a culture of compliance and safety. An all-in-one social intranet that can also bridge boundaries, for example between office and non-office employees.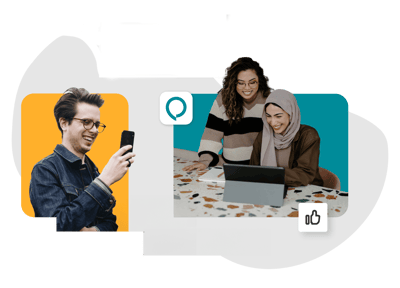 Would you like to discover the benefits of intranet yourself?
Watch the tour for free and discover the secret of social intranet