How a delivery driver, team leader and HR manager team up for success with an employee app
by Justus on May 16, 2023 11:59:41 AM
In this blog, we will take you into the world of Tom, delivery driver on his delivery bike, Lisa, his team leader in the warehouse and Amara, the HR manager. Discover how they collaborate and communicate using an app that incorporates the 7 key features of an employee app:
1. User-friendly design
2. Effective onboarding
3. Micro-learning
4. Communication and collaboration
5. Collecting feedback, organisation-wide and per team
6. Activating and encouraging behaviour around compliance and safety,
Analysis and reporting.
Tom: The delivery driver and the employee app
Tom is a delivery driver on a delivery bike. He has just joined the company and immediately feels at home. The effective onboarding via the employee app played an important role in the process. Tom highly values the user-friendly and intuitive design of the app, allowing him to quickly find the information he needs. Moreover, the app is tailored to the specific needs of delivery drivers like him, making him feel immediately understood and valued. This started even before his first working day, during pre-boarding, so he could show up to his first day of work well prepared and confident.
The app also contains micro-learning modules, which allow Tom to expand his knowledge on safety, efficiency and customer service. He realises that he can easily improve his skills, and he shares his enthusiasm with his colleagues in the app. This creates a sense of cohesion and connection within the team, despite the fact that they do not meet every day at work.
Lisa: The team leader and the employee app
Lisa is the team leader of the warehouse and is responsible for delivery drivers like Tom. She swiftly observes that the employee app is a valuable tool for her daily work. Through the app, she can easily communicate with her team, manage individual delivery drivers and keep them informed of important information. Moreover, the app allows her to quickly and efficiently solve problems, helping her team perform better.
The app also provides Lisa with insights into the performance of her team and individual delivery staff. Reporting and analysis functionalities allow her to see where improvements are needed, so she can take immediate action. This allows Lisa not only to optimise her team's work, but also to further develop her own management skills.
Amara: The HR manager and the employee app
HR manager Amara is responsible for implementing and managing the employee app within the organisation. She appreciates the positive impact of the app on the engagement and satisfaction of employees like Tom and Lisa. The app enables Emma to offer effective onboarding programs, allowing her to make new employees feel at home and perform better faster.
In addition, the micro-learning functionality ensures that all employees, from delivery staff to team leaders, can continuously expand their knowledge and skills. Amara sees that this approach contributes to employees' personal and professional growth, which in turn leads to lower staff turnover and higher satisfaction.
Additionally, encouraging behaviour around compliance and safety is essential for Amara. The employee app allows her to share important information and reminders, as well as reward desired behaviour. This creates a safer working environment and reduces risks for both employees and the company.

With the feedback opportunities in the app, Amara has a good sense what is going on in the organisation and within the different teams. It turns out that there are surprising differences between teams. With these insights, she can effectively support team leaders like Lisa on what is specifically going on in their teams.
Lastly, the analytics and reporting functionality of the app allows Amara to monitor its use and effectiveness. It allows her to continue to optimise internal communication and employee engagement and respond to employees' needs.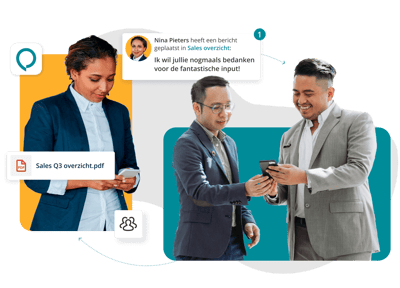 Discover the benefits of an Employee App
View the tour for free and discover the secret of the Plek Employee App
Conclusion: Teaming up for success with the employee app
The stories of Tom, Lisa and Amara show how an employee app with the right features can contribute to the success of both individual employees and the organisation as a whole. It allows them to collaborate, communicate and learn more effectively, regardless of their position or location.
The employee app brings them closer together and helps them perform their work more efficiently and safely. Moreover, the app increases employee satisfaction and reduces staff turnover. A successful employee app, like the one used by Tom, Lisa and Amara, is therefore an indispensable tool for organisations looking to engage, train and retain their employees.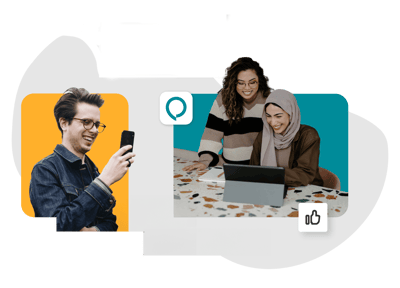 Do you want to know more about how to increase your team dynamics and improve cooperation with Plek?
View the tour for free and discover the secret of the Plek Employee App